Lexi Lesiuk (Class 2016)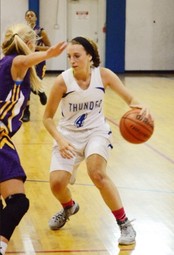 My experience with Dallas Thunder has been one of best things I have ever been a part of. It all went by so quickly, but I have enjoyed every second of it. I first started playing for Thunder in 2010 on the 14U team. My second year on the team, we won the State championship! I can say that was one of the best feelings I have ever experienced. When I first joined, I was immediately welcomed and felt a part of the Thunder family. I came in not knowing how to do much, but all of my coaches and teammates changed that. Through several years of basketball and several different coaches, I have learned so much and grown as a person. I have grown in my relationship with Christ and in relationships with my teammates. I can honestly say that I have been beyond blessed with the best teammates who have always encouraged me and pushed me to be better. Each person on the team plays a part in my life and I learn more from them every time we are together. What I love most about Thunder is the feeling of family. It isn't just a team, but much more than that. I always remember players from different organizations at the National Tournament commenting how much of a family Thunder is and how they wish they had that. We've also had Bible studies and worship times at Nationals which are things I loved to do with everyone. Another thing I love is that everyone supports all of the teams even if the games are far away. They always find a way to support each other and cheer for each team. Thunder always told us players that our priorities were God, Family, School, then Basketball. They always said to keep God first and though basketball is just a game, to enjoy it and glorify God through it. One of the verses that stands out to me is 1 Corinthians 10:31 which says, "So whether you eat or drink or whatever you do, do it all for the glory of God." It has shown me to give glory to God in the highs and lows and in everything I do. I will never forget my teammates who have been by my side these past 5 years and my experiences I have had with Thunder. I want to thank all of my coaches for taking the time to teach me the wonderful game I love so much, especially Darren Lemmons and Doyle Mocrief. They have taught me so much and have been so patient with me. To all of the players still playing, make the most of every game and play each game like it's your last. Time passes so quickly and it will all be over before you know it. I am so blessed God gave me this experience with Thunder and for the opportunity to form so many relationships with so many awesome people. Thank you everyone who made this the best experience I have ever had.
---
Ryan Bray (Class 2015)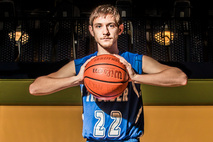 My name is Ryan Bray. I played with Dallas Thunder for five years, graduating in 2015. I am grateful for my time with the Thunder family for many reasons.

First, I experienced Thunder's loyalty. Thunder is a big organization with boy's and girl's teams in all age groups. We did not just know our own team mates; we knew everyone. Families with younger players would go to the older kid's games and cheer like crazy. The older players would go to the younger teams' games and sit on their bench and give advice and push them to be better. I was always encouraged when players and their families would come to my game to root for us. All the cheering made the games a ton of fun!

Secondly, I learned the meaning of the word TEAM. I learned how to play focusing on making our whole team successful versus trying to make myself look good. I improved my "people skills" in dealing with my teammates and learned the best ways to tell them they did something wrong. I also learned how to encourage them when they did something right. Ultimately, I now understand that playing as a team is much more fun than doing my own thing anyway!

Lastly, I am grateful for their character. I appreciate how the leadership modeled Christ-like behavior, setting an example for a high standard of behavior on and off the court. While no one, including myself, was ever perfect, I think we all understood that standard and tried to live up to it. Sometimes we missed the mark, but then that was a chance to practice humility. In my time at Thunder, I saw board members and parents, as well as coaches and players all admit their mistakes and ask forgiveness. All this encouraged my walk with God.

Athletics is a great teacher: maintaining a right heart through the ups and downs of games, resolving conflict in a Godly way, deferring to others, yielding to authority, rejoicing with those who rejoice and weeping with those who weep, letting love cover a multitude of sins, and the list could go on and on! The Lord definitely used basketball and Dallas Thunder to shape me and I am grateful.


---
Megan Benefield (Class 2015)

Don't Count Me Out! ---
Megan Benefield #13 (SENIOR 2014-15)
Born at 29 weeks only 3 pounds!
Age 4 had 1/2 kidney removed
Age 6 fell in love with Basketball
Age 9 Broke Finger
8th Grade Torn left ACL at State Tournament
9th Grade Torn Right ACL at State Tournament
10th Grade Dislocated 2 ribs and Left Shoulder with a partial tear of rotators-cuff finished two more games to help team win 3rd in State Tournament.
Taking Dual Credit at college has 18 hours of college credit! Junior this year!
Runs 5k in 22 min! Numerous 1st place finishes
Working on running a marathon at the end of Senior year.
Can't wait to see what will happen next!
DON'T EVER COUNT THIS GIRL OUT!
Kaitlin Benefield (Class of 2013)


Time really does fly when you're having fun. Looking back now it seems like my 5 year Thunder career went by in a blink of an eye. There is no possible way for me to sum up all of my experiences or the lessons that I learned during my time with this program. I am forever grateful for the coaches who pushed me every minute to be a better player and ultimately taught me how to become a better person. The off the court lessons I learned are going to stick with me for the rest of my life. Lessons of patients, sportsmanship, perseverance, strength through trail or adversity, leadership, how to never give up, and the most important how to give God glory in the low places as well as the high places.

I really am thankful for the whole thunder family. My teammates will not be easily forgotten. An indescribable bond was created between myself and them and I will forever keep them in my prayers and on my heart no matter how far our earthly paths may take us away from each other.

Thunder taught me more than just emotional or spiritual victories though. Physically thunder has changed me as well. I lost over 70 pounds during my career and went from being a player who never left the bench to a decent basketball player/team captain for a couple years. Thunder has truly taught me that no matter what anyone says about you or how anyone looks at you, you can overcome.

As I continue into the next phase of my life I will cling to my savoir, Jesus, and to the life experiences I've gained through thunder. I will go through every area of my life knowing and truly believing in my heart that I can and will come through to the other side victorious. It doesn't always matter what the scoreboard says because I know I am forever a winner and no one can ever change my mind.

I am very grateful to the current thunder parents for allowing me the opportunity to stay and coach your kids while I'm attending Bible College. It is a great privilege to continue to have any influence in their lives and it's one I do not take lightly. I am praying that I will be able to continue to uplift the thunder name by teaching them the lessons that I have just learned myself.



---

Mason DeLoache (Class of 2013)


My experience with Dallas Thunder started when I was 12 years old. I was not a very good basketball player, but my teammates and coach worked with me and helped me get better. The relationships I have built while on Thunder are some of the most meaningful relationships of my life. Thunder is not just a team. It is a family. When I was 12, 13 and 14 years old, players on the JV and Varsity teams would often help us with our game and invite us to social events outside of practice. They were people that I looked up to and they were great role models. While on Thunder I was taught the game of basketball from three different coaches: Elton Drake, Scott Stimpson, and Doyle Moncrief. Each coach had a different way of coaching and different aspects of the game that practices focused on, but all of them had the same three priorities that every player was expected to uphold. First is your relationship with God. We had bible studies, where we would read and study God's word, and while that was not always a constant there was always accountability. Second is Family. Our families were always a big part of Dallas Thunder. Families are so actively a part of Thunder, you not only get to know the members of your team, but their brothers, sisters, cousin, parents. Third is education. While we love basketball and many have aspirations to play in college, if you do not have things right with your schoolwork, that is unacceptable. Homeschooling often makes it difficult to hold to students accountable academically, but Thunder requires that each of its students commit to making their education a priority. Those three things are the backbone of what makes Thunder the organization that it is. If you do not have things right with God, Family or your schoolwork, don't come to practice, don't come to a game. Get things right and work hard to keep things right. I could never repay Thunder for the impact it made in my life. Thank you to everyone who was a part of it.



---