Josiah Carr - 12U Boys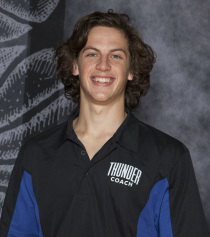 I believe it is a coach's responsibility to empower his or her players to play the game in a way that satisfies them, glorifies God and in a successful manner. I see two opportunities with the sport of basketball and they usually come hand in hand: the first is to glorify God in all you say and do and how you play and how you win and in how you lose. No matter what age, my players will learn to acknowledge and respect opposing and players coaches, referees, and the scoreboard when the final whistle blows. The character of my players is more important to me than how they can get a ball in the hoop. That being said, God requires excellence, whether it be in practice or in games, on or off the court. My goal is that my players' faith, will, and skill will be tested and sharpened this season.
As far as the sport is concerned, I've been playing since I was 10. The summer of my sophomore year I decided I wanted to at play in college, so I got a trainer. Since then I've been blessed by the guidance of 3 different basketball trainers who have given me the tools to effectively understand, learn, and articulate the game.
I played for the Lighthouse Lions my junior year, averaging: 5 assists, 16pts, 5 rebound and 3 steals per game. As the starting point guard and team captain, I led us to a consolation championship in the Texas Christian Athletic League, averaging 22 ppg in postseason play (10 games). Including a team and personal record 10 made three pointers in the consolation semifinals.
Despite injury my senior year, I'm blessed to have been taught valuable lessons that I will carry with me all throughout life. I intend to play college ball next fall. I love this sport.
Follow Coach Carr on Facebook>>

---