Dallas Thunder Homeschool Basketball
Our Mission Statement
---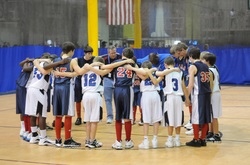 Dallas Homeschool Basketball, Inc. was founded in 2003 to provide Dallas area home schooled students with the opportunity to develop their basketball skills in a competitive basketball environment. In order to help our students strengthen their Christian walk and develop Christ-centered relationships, we combine the leadership of experienced, paid and volunteer coaches with that of our Christian parents to model Christian values.
---
---
Dallas Thunder 2016 - 2017 Players
---
Goals
Develop and model character qualities fitting of Christian athletes (God first, family second, school third, basketball fourth).

Play competitive basketball, while also providing maximum opportunity for every child to learn, grow, and gain game experience.

Develop outstanding individual and team basketball skills.

Our Mission Objectives
Matthew 6:33 But seek first the Kingdom of God and his righteousness, and all these things will be added to you. We put God first, family second, schoolwork third and, we hope each family will place basketball fourth.

2 Timothy 2:15 Do your best to present yourself to God as one approved, a worker who has no need to be ashamed, rightly handling the word of truth. We will strive as an organization, as a team, as individual players and parents to be the best we can be.
1 Corinthians 9:25a Every athlete exercises self-control in all things. We will win or lose as an organization. Victories and losses are to be shared.
1 Thessalonians 5:11 So encourage each other and build each other up, just as you are already doing. Team play and teammate support is to be encouraged and cherished.
Philippians 3:14 I press on to reach the end of the race and receive the heavenly prize for which God, through Christ Jesus, is calling us. Competition serves to measure ability, hard work, determination, focus, training and teamwork, all of which we will strive to improve upon. As a Christians we must strive not to win at all cost but for Him at all cost. We play as a team and we must strive to show Christ in all we do on and off the court.
2 Timothy 2:15a Do your best to present yourself to God as one approved. We, as a homeschool organization, must demonstrate to others the values we hold dear. We want our competitors to see Christ through our actions, as well as our voices on the court and in the stands.
Proverbs 20:7The godly walk with integrity; blessed are their children who follow them. We recognize ourselves as a Christian organization and expect each player and parent to conduct themselves in a manner becoming of Christ.
---
About Dallas Homeschool Basketball, Inc.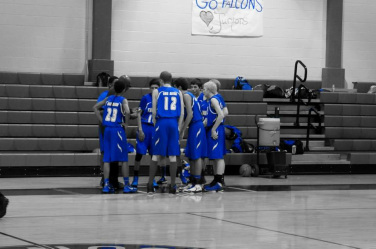 The organization behind the Dallas Thunder teams is Dallas Homeschool Basketball, Inc., a Texas nonprofit organization which has qualified with the IRS as a 501(c)3 tax-exempt organization. The board of directors of Dallas Homeschool Basketball, Inc. consists of parents who desire the best for the Dallas/Ft. Worth home schooled children!


---