Eric Okeke - 14U Boys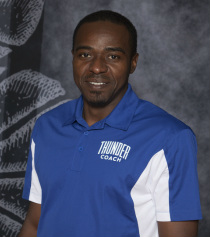 Coach Eric Okeke has eight years coaching experience that includes academy, middle school and high school. He is a USA Basketball Youth Development Coach and a basketball scout and recruiter internationally. Coach Okeke played basketball from middle school through College at the University of Nigeria where he graduated with a Bachelors of Science degree in Physical Education and Recreation. He is pursuing his masters degree in Sports Management and Coaching.
Coach Okeke was born and raised in Nigeria and speaks English, French and Italian. He has been married Sammie Hill-Jones Okeke for three years and live in Dallas, Texas.
Coach Okeke is a member of Cathedral of Guadalupe at downtown Dallas. Throughout his studies he attended mission schools (Pentecostal middle school and a Baptist high school). He states, "I'm a strong believer of God and was raised in a Christian family."
Follow Coach Okeke on
Facebook>>
---